Towards alternative economies
The first line of action against precarious internships could well be to demand proper compensation and desirable working conditions. As important as this achievement would be, it still operates within the framework of wage labor. Wage labor is done within a hierarchical setup that prioritizes the interests of the entity providing the wage, such as profit, and sidelines the interests of the laborer, such as their well-being, livelihood, and sense of purpose. Dependent on the labor for survival or sense of professional success, the worker does not affirm their identity through the labor. Feeling disconnected from what they are spending most of their time doing, they become increasingly disconnected from their nature and consequently from others and the environment. Wage labor is alienated labor. The goal then should be to create environments where meaningful work is viable.
Meaningful work has intrinsic value for the person doing it.
The work is rewarding, and the worker feels fulfilled and exercises their creativity and the full range of their skills. The worker simply wants to do the work for its own sake.
Visions of the future of labor conjure up worlds where time spent in wage labor is reduced to a few hours a day or is eliminated altogether, maximizing the time for people to realize their intrinsic desires.
Nineteenth century textile designer William Morris makes the distinction between "useful work" and "useless toil." Labor is not good in itself as a sacred means for earning livelihood. In doing worthy work, we find pleasure in a creative and imaginative skill, hope for making use of the product of our labor, and look forward to enjoying the time when we are not working. Work should be undertaken voluntarily and joyfully, with the hope of benefiting ourselves or our community. Work would be varied, we could choose to practice different crafts, and the working day would be short. All other work is worthless. People should produce what they consume according to their ability, and their livelihood would be guaranteed by society. In order to achieve that, the hierarchy that compels people into wage labor should be gotten rid of.
In her book
The Problem with Work
, contemporary academic Kathi Weeks reminds us that the fact that we should work to make a living is a social convention rather than a natural law.
What compels us to work is a social system that ensures that work is the only means for securing basic needs such as food, clothing, shelter, and healthcare.
Waged work is also strongly tied to social status, personal achievement, and a sense of contributing to society, yet it leaves people precarious and overworked. On one hand, work is a practice that creates hierarchies, and on the other, it is a field where we can produce alternative models of organization and politics that center freedom. A guaranteed universal basic income would enable workers to better negotiate their working conditions and to leave waged work without jeopardizing their livelihoods. Full-time work consisting of thirty hours a week would help balance out the gap between unemployment and overwork. More importantly, a basic income could allow people to challenge the wage system and to envision their lives independent from it.
We can see steps towards such visions in existing forms of organization that workers have come up with to challenge precariousness through different tools, from horizontal self-management, to direct political action, to growing food. The common thread that connects these different forms is that they create security in connections based on mutual support. These instances, though small in the face of the mainstream economy, can begin to multiply and form networks that can slowly make them less and less alien.
Photo by Leeds Creative Timebank
Timebanks
Leeds Creative Timebank
is a platform for skill and knowledge exchange that connects artists from a wide range of backgrounds who work in Leeds, England. Instead of cash, the platform relies on time-credits as currency for exchanging services between members, which include mentoring in areas such curating, professional skills such as printmaking, and general skills such as catering. Using an online database, a member can request a skill transaction via a "timebroker" who puts them in contact with another member that can offer that skill. According to the time spent on the work, the member who gave their skill is credited, and the one who received it is debited. The receiving member provides any necessary materials for the task. Whether they are recent graduates or experienced practitioners, all members' hours are equal in value. New members are recruited through open calls and are invited to workshops to get acquainted with the values of the organization and to join. A management group that any member can join oversees the policy and operation of the organization.
The timebank was established in 2010 with a small grant as a practical response to the 2008 economic crisis and the diminishing public funding available to artists. It allows artists to mutually support each other outside the framework of cash transactions, thereby strengthening the production of the local community of artists. While the timebank does not free its members from all monetary costs, it does help them realize projects, receive training, make connections, and experiment with collaborating with others, things that otherwise might have not been accessible to them.
Photo by Routines magazine
Workers' cooperatives
Cooperativa de Diseño
is a multidisciplinary design studio established in the corner of a recuperated factory in Argentina in 2011. They offer services in several areas including graphic design, product development, and audiovisual production. They have done projects with a range of workers' cooperatives from other recuperated factories, artisan communities, and activist groups. The studio operates as a cooperative, working based on horizontal self-organization. A basic income is provided from the cooperative's revenue according to the financial needs of each member, such as dependents and housing costs. In addition to the basic salary, the members earn a second income which is divided equally between them and is meant to cover daily living expenses such as food. Necessary work hours are also divided equally among the members regardless of whether these hours directly generate income or not. In this way, the cooperative members adopt their political values not only in the content of the projects that they work on, but also through their own ways of working, and thus align their practice with their political outlook. They offer not only projects that aim for social impact, but also an alternative way of organizing creative practice.
Fund our Future Demonstration, London, November 10, 2010. Photo by the Precarious Workers' Brigade
Artists' collectives
The Precarious Workers' Brigade
is a UK-based collective of precarious workers in culture and education who develop research and engage in actions that aim for concrete change against precarious work. They have created a number of tools that address labor conditions in the cultural and educational sector, including a template for an open letter to art institutions that advertise unpaid internships; the Bust your Boss Card, an info leaflet on negotiating money issues with potential clients and employers; and publications such as
Training for Exploitation? Politicising Employability and Reclaiming Education
, which offers tools for analyzing the relationship between education, work, and the cultural economy. The group also organizes workshops with art and design students and recent graduates and does protest actions in collaboration with other groups and campaigns, including ones relating to causes and professional fields outside the sphere of culture.
They orient and organize their work based on a code of ethics, which outlines their goals, organizational methods, and favored working conditions. Part of their policy is to share information regarding the labor and payment or lack thereof that goes into their work by publishing an info box at the end of their publications or reading the info box out loud at the start of an event. The info box includes details such as the duration of the work, number of workers or interns involved, and workers' fees. Its purpose is to oppose the culture of silence regarding working conditions in the arts, that is one of the factors that allow exploitation to keep happening. They maintain that even if doing away with free labor is a long process, transparency is a direct step that can be taken towards that goal.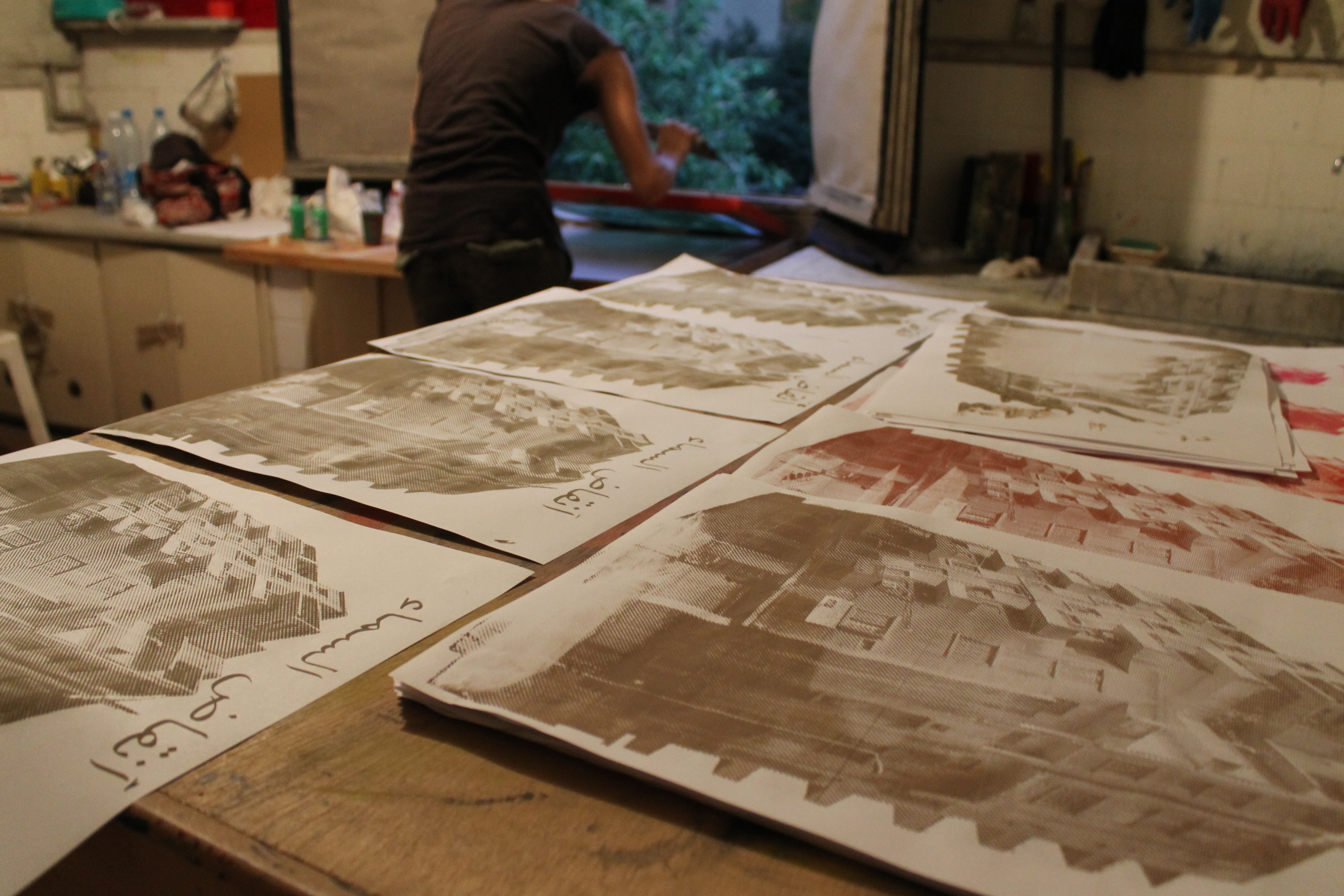 From Mansion's silk screening workshop. Photo by Soraya Ghezelbash
Artist-run spaces (urban context)
Mansion
is a public space for cultural production that is housed in a twentieth-century villa in Beirut, which was formerly abandoned since the eighties. Starting in 2012, new inhabitants, including artists, designers, and activists, have slowly transformed it into a shared space that offers a freely accessible and quiet working space, garden, kitchen, and library. Mansion also offers a sound studio, dance studio, and work desks and offices for an affordable financial contribution that helps cover the running costs and maintenance of the space. The villa's users are also encouraged to take care of the space by making repairs and improvements and replenishing the kitchen supplies. This gives artistic and cultural workers and associations access to spaces and facilities that allow them to produce work at an exceptionally low cost while contributing to a communal venue that offers the neighborhood and city much needed public space. The villa was repurposed in agreement with its owner, who offers the place free of charge but on a temporary basis. This experiment in collective reuse stands in bright contrast to the typical fate of Beirut's disintegrating old buildings that are either demolished to make way for high-end real estate projects or remodeled into exclusive enterprises. Over the years, Mansion has hosted a variety of activities and initiatives, from exhibitions and performances, to a bicycle repair shop, to activist campaign meetings.
Kultivating m<Other Tongues preconference. Photo by Kultivator

Artist-run spaces (rural context)
Kultivator
is a project that explores the intersection between visual art practice and farming. It is situated in formerly abandoned farm facilities in the village of Dyestad on the southeast coast of Sweden. It includes spaces for artist residencies, exhibitions, and performances beside an organic farm that produces crop, oil, and dairy and provides food for the residents. The artists in residence and other visitors in return offer helping hands for the farm work in an otherwise scarcely inhabited area.
Kultivator was founded in 2005 and is currently run by artists Mathieu Vrijman and Malin Lindmark Vrijman and farm manager Henric Stigeborn. The artists maintain their practice by doing commissioned projects, hosting gatherings on the farm, and teaching at the local art school, and they work with the nearby agricultural community to learn about growing food and taking care of animals. They see parallels between artistic practice and organic farming: the lack of accessibility to a broad public and the precariousness that comes with a cultural and ecological orientation in one's work. Their projects involve both international artists and the local rural community and take on both artistic research and practical needs. With small farmers and others, they set up a simple platform for the exchange of labor between around ten participants living on the island where Kultivator is located. The participants share the need to restore and maintain derelict buildings, and the exchange allows for organizing labor-intensive projects involving construction, maintenance, or large-scale events at minimal cost. Following an open call, contributors show up and do what they can to help finish the work, while the host provides food, drinks, accommodation, and a good atmosphere.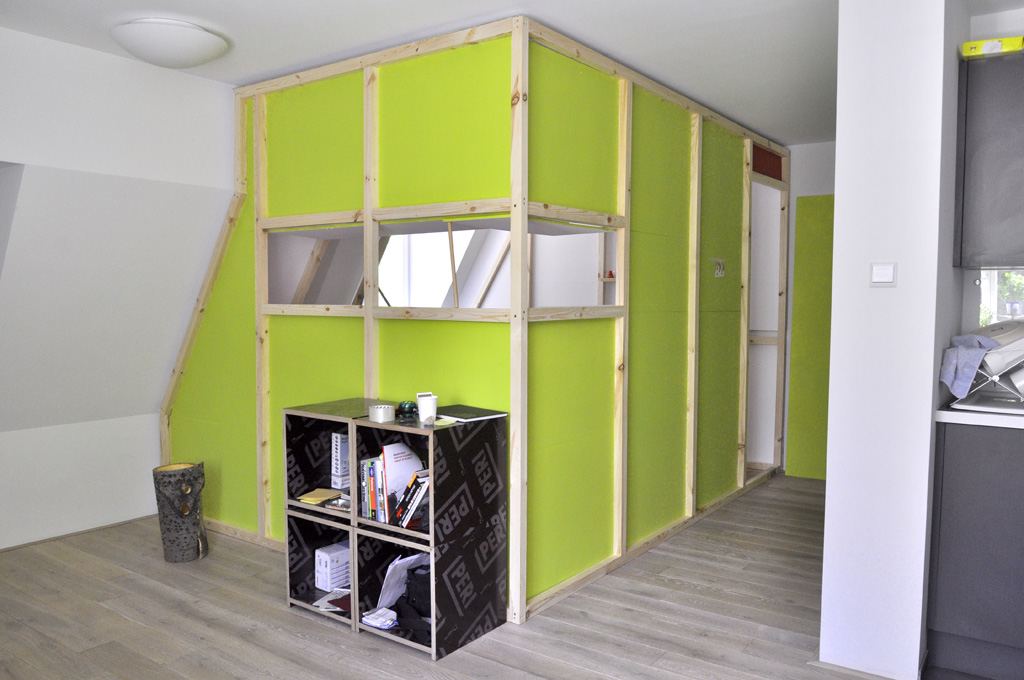 Collectivized artists' residencies
My castle is your castle
is a small experiment in sharing resources initiated by designers Bianca Elzenbaumer and Fabio Franz in 2011. The duo where part of a five-month artist residency at the Ujazdowski Castle Centre for Contemporary Art in Warsaw to do research on precariousness and to investigate how socially and politically engaged practices can be economically viable. Aiming to create an alternative economic culture in everyday conditions and to support practitioners working along the same lines of research, the duo shared the resources they had access to via the residency with six others working in various creative disciplines that they reached through an open call.
They shared their travel budget with their coresidents, and a part of their production budget was used to support socially and politically engaged practitioners in Warsaw through fees for public seminars. In addition, they transformed the 25 square meter studio they were offered by building a wooden structure within it that can be inhabited independently. The coresidents lived with them for periods ranging from four to thirty days and had the possibility to do their own work without the expectation of producing anything, to explore the city for inspiration, and to connect with other artists, curators, and institutions. The experiment was short-term, limited in scale, and reliant on institutional resources. But even if it does not challenge the conditions that create precariousness in the first place, it is an example of how artists can use the resources made available to them to support others that share their precarious conditions.
Back